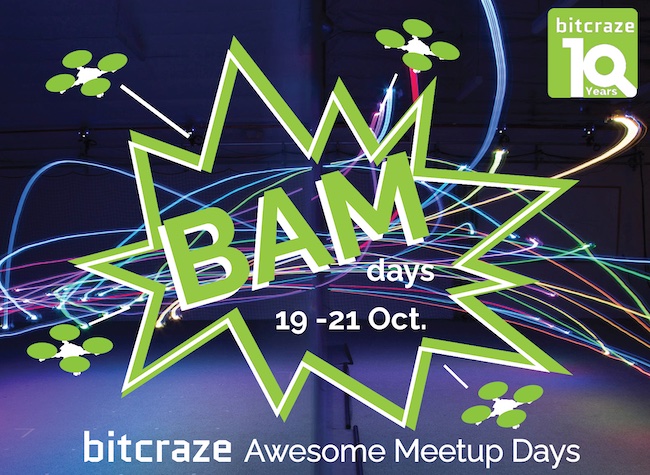 Introducing the Bitcraze Awesome Meetup (BAM) days: a free, three-day convention celebrating the 10 year anniversary of Bitcraze. The program is organized around three themes: Positioning, the AI-deck and Swarming.
There will be guest speakers, workshops, Q&As and most-importantly… social events. We hope to meet you there, hear what you are working on and discuss future possibilties of what we can achieve with the Crazyflie eco system!
---
Detailed programming
All times are presented in Central European (Summer) Time. Be aaware that this schedule is still subjected to change in the coming weeks
Time
Tuesday 19 Oct
Wednesday 20 Oct
Thursday 21 Oct
09:30
Opening
10:00
Klaus Kefferpütz (HS Augsburg)
Topic: TBA
Daniele Palossi (PULP-platform)
Topic: Deep Learning on AIdeck
Wolfgang Hönig (TU Berlin)
Topic: CrazySwarm
10:30
11:00
11:30
WS: Positioning Systems
WS: Rust and the Crazyflie
WS: Swarming with CFlib
12:00
12:30
13:00
13:30
Joseph La Delfa (KTH):
Topic: DroneChi
Francesco Paci (Greenwaves Tech.)
Topic: TBA
WS: Bolt and BQ deck
14:00
14:30
Guido de Croon & Bart Duisterhof (MAVlab)
Topic: SniffyBug
15:00
M. Sjölin & M. Holmberg (Qualisys)
Topic: TBA
WS: Autonomy and app layer
15:30
16:00
Frederik Gurr (Eclipse Founation)
Topic: TBA
WS: Autonomous Swarm Demo
16:30
WS: Advanced Lighthouse Usage
17:00
17:30
Social event
Roundtable Q&A
Future plans of Bitcraze
18:00
Closing
Legend:
Fika (Swedish for Coffee break):

Lunch (Swedish for Lunch):

WS: Workshop
---
Speakers and Workshop information
We're really excited and happy to welcome all the awesome speakers! They will tell us about their work, how they use the Crazyflie and much more. More information about the speakers and workshops will follow soon!
Day 1
Klaus Kefferpütz
Joseph La Delfa
M. Sjölin & M. Holmberg
Day 2
Daniele Palossi
Read more
Title Presentation: "Deep learning-based autonomous navigation using the Crazyflie nano-drone"
Affiliation: PULP-Platform
Bio:
Daniele Palossi received the Ph.D. in Information Technology and Electrical Engineering from the ETH Zürich, in 2019. He is currently a Postdoctoral Researcher at the Dalle Molle Institute for Artificial Intelligence (IDSIA), USI-SUPSI, Lugano, Switzerland, and at the Integrated Systems Laboratory (IIS), ETH Zürich, Zürich, Switzerland. His research focuses on the embedded domain with special emphasis on energy-efficient ultra-low-power platforms, algorithms for autonomous navigation, and resource-constrained small-sized cyber-physical systems. His work has resulted in 20+ publications in international conferences and journals. Dr. Palossi was a recipient of the Swiss National Science Foundation (SNSF) Spark Grant and the 2nd prize at the Design Contest held at the ACM/IEEE ISLPED'19.
Email:
daniele.palossi@iis.ee.ethz.ch
daniele.palossi@idsia.ch
Francesco Paci
Frederik Gurr
Day 3
Wolfgang Hönig
G. de Croon & B. Duisterhof