We have a busy schedule in the fall, since we are planning to travel all around the world for all kinds of awesome conferences and symposia. Here is a quick overview of where we are planning to go in October and November.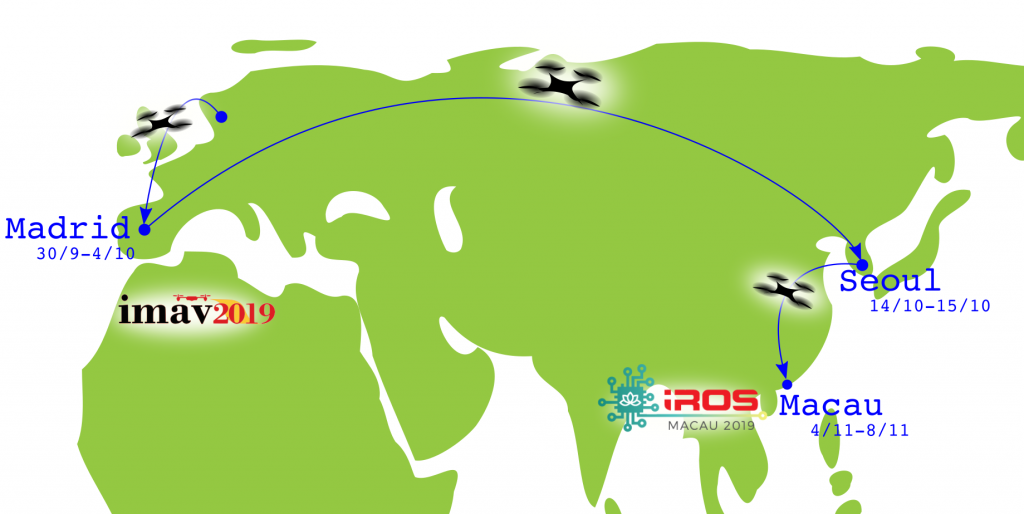 IMAV Madrid 1/10-4/10
We will attend the IMAV 2019, and this time it is in Madrid (Spain) from the 1th to the 4th of October. This is a conference for anything related to micro-aerial vehicles and also includes an awesome indoor and outdoor competition. Arnaud and Kimberly will be present at both the indoor and outdoor fair, where we will show some demos with the lighthouse system and show off our new Crazyflie Bolt!
Symposium Seoul 14/10 – 15/10
In collaboration with our partner CLRobur, we will have a symposium in Seoul (Korea) on the 14th and 15th of October. Kristoffer will explain the attendees all about positioning systems, and show off the LPS and our new lighthouse deck.
Sign up here or send an email to clrobur@naver.com
IROS Macau 4/11-8/11
Last but not least, we will be there at IROS 2019 as well! This is one of the flagship robotics conferences of IEEE. In Macau (China) from the 4th till the 8th of November, Marcus and Tobias will show some awesome demos with the lighthouse system and hopefully we will present the new AI deck!