Wait, what? Is it Monday again already?! Well no, don't worry you didn't miss the weekend. The reason for breaking our "Monday post" tradition is that we couldn't wait to announce that the pre-order has started for the Crazyflie!!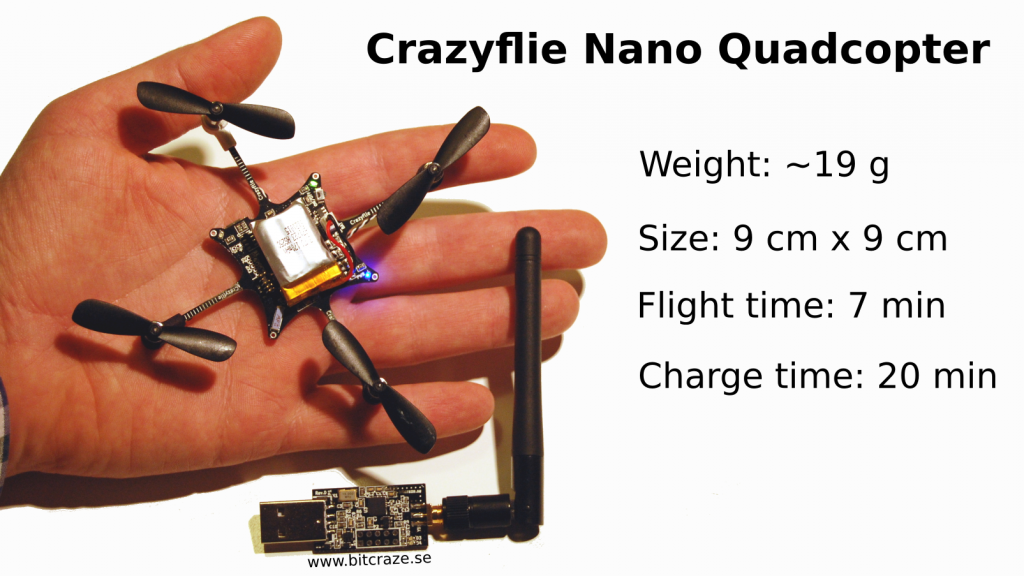 The last couple of weeks has been really busy finalizing as much as possible and finally the time has come. In the end we couldn't decide on whether we should add the extra sensors or not so we decided on making two versions, one with the basic sensors and one with the extra sensors. Keep in mind that there's no firmware for the extra sensors yet but if you are interested in more advanced regulation algorithms and performance then you should get the kit with the extra sensors.
We put together two bundles for the different "sensor packs". One is called Crazyflie Nano Quadcopter Kit 6-DOF and the other 10-DOF. They both include the Crazyradio USB dongle and a 2.4GHz antenna for it. The price for the kits are $149 for the 6-DOF and $173 for the 10-DOF. For full product descriptions head over to Seeedstudio and have a look. There's also spare parts available to pre-order which could be a wise choice depending on what you are planning on using the Crazyflie for :-)
Here's the link to the Crazyflie pre-order at Seeedstudio.
Here's the time schedule for the pre-orders:
Pre-order: Jan 31st – Feb 18th
Shipping: April 25th
To be totally honest we are not sure how to handle the transition from pre-order to "normal" orders. This depends a bit on how many we sell and how fast we can get a "normal" stock up again. So if you are interested in getting a kit make sure to get one during the pre-order!
Like we've said earlier we wanted to release the source for the firmware/software as well as the schematics so you know what you are buying and can already now think of hacks and projects for when your Crazyflie arrives. The choice fell on Bitbucket where all our repos and bugtrackers are located. The only thing we are not releasing yet is the complete KiCad hardware design, but once the pre-orders ship it will be in the repos as well. We are currently pushing the code into the repos on Bitbucket but haven't had time to complete all of them so we will keep publishing them during the weekend.
So if you want a Crazyflie for flying, doing development or just to help support our project then head over to Seeedstudio and pre-order one.
Last but not least: What would an occasion like this be without a new video :-)