This weekend we spent at the Maker Faire in Rome and got to meet lots of fellow geeks and makers. Even though it was busy times at the Bitcraze booth, we got a chance to walk around a bit and see other projects. It's really inspiring to see what people come up with! It was also the first time we got the chance to show off the new Crazyflie 2.0 to the public and the feedback was really positive. We have realized that we might be a bit wide in our description of the new platform. There's lots of new features that we are very eager to talk about, but maybe we should focus a bit more on the biggest improvements. With two weeks left on the pre-order we have been trying really hard to get some extra attention for the new platform, but haven't really succeeded yet. This might be one of the reasons.
So even though there's lots of new features we would really like to highlight the new expansion port. It's been something that we have been talking about internally for a while now and we are really excited that we managed to fit it in. Like we wrote in an earlier post we used some exotic use-cases to figure out what to include in the expansion header. For example this resulted in the ability to charge the battery from the expansion board, like we are doing with the Qi wireless charging expansion board. Since the Crazyflie 2.0 has the ability to connect multiple expansion boards (both on top and bottom) we also needed some way to determine what boards are added. So one of the pins in the port is used as a 1-wire memory buss. Each expansion board has a 1-wire memory that allows identification of the board, it's revision and what resources it uses. This way we can adapt the features available from the computer client or mobile device when the platform is connected.
Below is an overview of what's available in the expansion port: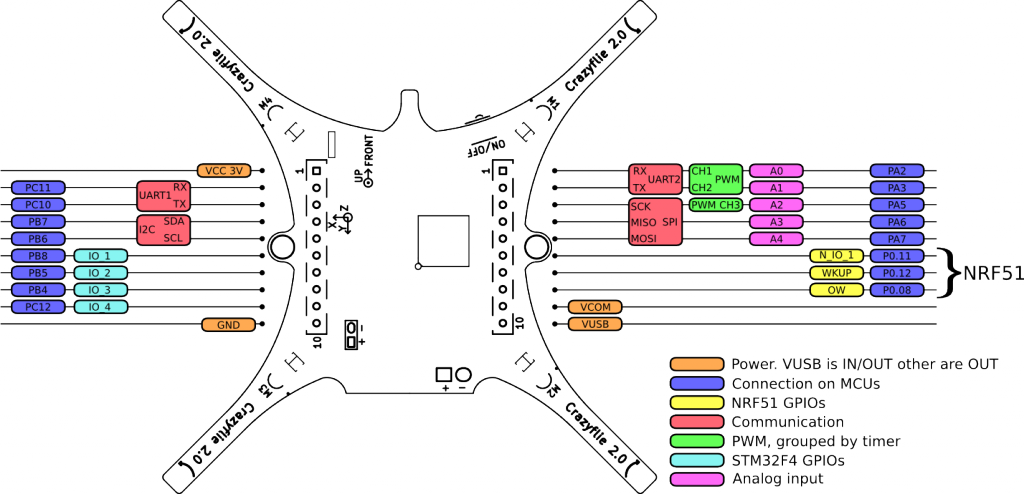 For the pre-order we have managed to include 4 expansion boards: the LED-expansion, the Qi wireless charging expansion, the breakout expansion and the prototyping expansion. Aside from these boards we also have some prototypes of more expansions. Before the pre-order we were working really hard on a GPS expansion board, but in the end we didn't think the current prototype had enough precision to launch. We reached about 10-20 meters accuracy with locking times of about 2-3 minutes and didn't have time to spin another prototype. During the fall we will work on perfecting the design so we reach a level of performance that we feel is good enough.
We also have a prototype for a distance sensor to be used for precision landing. After looking for a solution for a while we finally found the VL6180, a time of flight sensor from ST. The range is not very long, but combined with the high precision pressure sensor mounted on the Crazyflie 2.0 we think the result can be very good. We also have an uSD expansion that we are currently testing.
After getting feedback from the visitors we met at the Maker Faire we have also decided that we will be designing an Edison adapter expansion for the Crazyflie 2.0. The Edison board is fairly small and light, so it should be possible to design an expansion board that has the 70-pin expansion connector featured on the Edison. Our plan is to use some of the interfaces in our expansion board to connect to the Edison, like I2C, UART and SPI.
Last but not least we are also working on an analog FPV expansion board. It's still just an early prototype, but we think it's something that a lot of users might be interested in.
As we will continue making more and more boards we also hope the community will take the opportunity to do so as well. We will soon release templates for KiCad making it really quick to get started. What board would you like to make? Let us know what you think about the new expansion port. Do you have any ideas for boards or any comments about our planned ones? We would love to get some feedback!
We would also like to say congratulations to Mihir Garimella on being one of the winners of the Google Science Faire 2014 with his project the Flybot! He used the Crazyflie to work on escape maneuvers similar to those of fruit flies. Really great work!