So we are back at our office and the "great" Swedish weather. We don't miss the California sunshine at all, we promise.
We have spent the last days documenting the setup we used to fly the Crazyflie autonomous using the Kinect2 for position control. It is still a work in progress but we think it worth sharing as we think many of you out there will be way better at improving it than we are. What we like so much with this setup is that it's affordable compared to the professional systems such as VICON and PhaseSpace which makes it possible to play with at home, in the office or at school. It might be limiting in volume but until an affordable system such as the Valve's lighthouse is available it is a pretty good alternative.
We have put all documentation on the wiki and hopefully it should be pretty straight forward to setup and get up and running.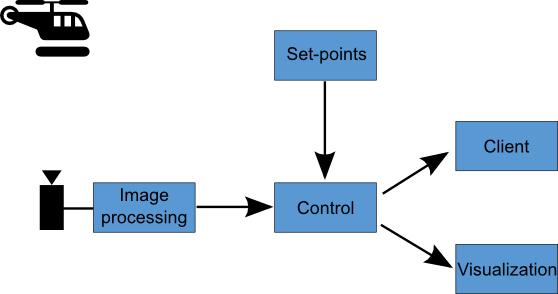 The Kinect uses its IR time of flight sensor to detect the altitude of the copter. The image processing is detecting the copter and then gets its position. The controller can the compare the current versus wanted position and then sends correction to bring the copter closer to the wanted position. These correction are sent to the copter until a new image is taken by the Kinect and a new correction is calculated. This closed loop process will keep the Crazyflie in the wanted position.
Here is a short video showing it in action.


We also thought it would be nice to show some more pictures from the Makar Faire Bay Area and our visit to USC!