Up until now, we've made our products available to customers through Seeedstudio and a number of distributors around the world. This has been a great solution since we've been able to focus on development of products instead of shipping packages and maintaining our own e-shop. When customers contact us and want to buy, we've been directing them towards local distributors where they can buy in local currency and with faster delivery times. But the last year more and more customers wanted to buy products directly from us and this has been taking up more and more of our time. The main reason has been complex purchasing procedures or local distributors not carrying the hardware the customer wants. Also if a customer starts discussing with us about what to buy, they tend to want to buy directly from us instead. Since we haven't had a good set-up for this, we've been shipping packets on a case-to-case basis from our office basement (yes, the same basement where we fly with the Loco positioning). This has been very time consuming.
So, in order to optimize the sales and shipping, we've decided to launch our own e-shop. Our idea is that it is a complement to other distributors and the Seeedstudio Bazaar. Buying from local distributors will result in lower shipping costs and faster delivery. So we're not aiming at replacing this, instead our goals are:
Have one place where we offer a full assortment of our products
Take responsibility for the end-to-end experience (both the purchasing and product support)
In order to service the e-shop, we've set up warehousing in Hong Kong, close to Shenzhen were the Seeedstudio manufacture is located. Aside from servicing the e-shop, this solution will also be used for drop-shipping custom orders, so replacing our basement packaging system.
As with most things, the more you know about something, the more you understand how complex it is. When we first started thinking about setting up our own e-shop/warehouse solution, we thought that this would probably take about a week: we evaluate a couple of solutions, select one and then just start selling/shipping. Turns out that things are more complex and this has caused a few weeks delay for the Loco positioning products since they will only be available through our shop. Now we're hoping everything is on track, but we're very new at this so please bare with us if there's any hickups along the way when starting this up.
We're opening up the store today, so you can have a look. Any feedback and comments are welcome! But as you might quickly notice, all the products are out of stock. The Loco positioning hardware as well as the other products are on their way to the warehouse, but they got a bit delayed along the way. Our best estimate is that the products are stocked at the end of the week or beginning of next week. The link to the e-shop is store.bitcraze.io.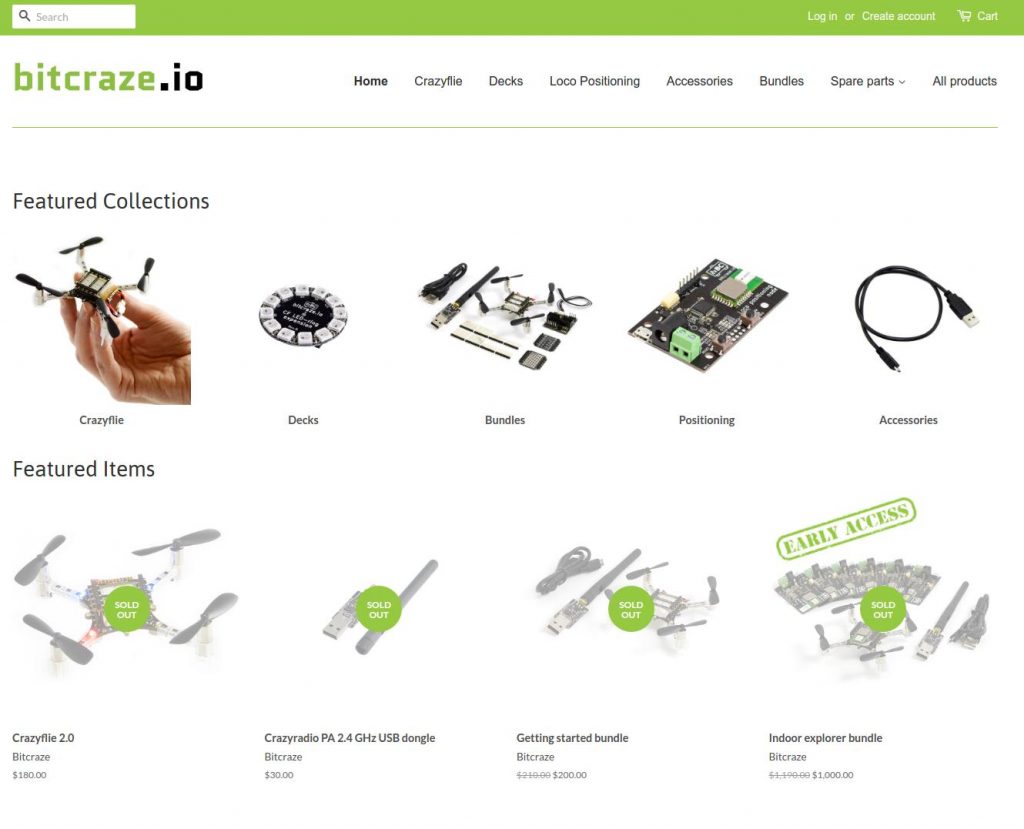 Here's a photo of some of the boxes. Looks a lot like normal boxes, but these contain the Loco positioning hardware :-)