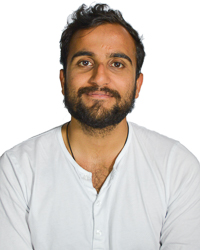 Going out of the norm for this week, this blog post is about my experience as an intern at Bitcraze. My name is Aman and I joined Bitcraze 8 weeks ago hoping to gain more experience and knowledge in quadcopter robotics while building some new connections.
Working at Bitcraze has been a breath of fresh air compared to all my previous internship experiences. From the work environment to the five brilliant guys that run this company, I believe everything was setup for me to have one of the best internship experiences. Someone was always available to help me with any concept I did not understand and even though I was just an intern, each of the guys made sure to include me in every part of the planning process. This type of inclusion, I believe, allowed me to see my role in the company and how I contributed to the overall goals.
While here, I mainly focused my work on the flight control software behind the Crazyflie. This included learning and understanding the framework behind the crazyflie, tweaking the existing firmware code to get location data, converting MATLAB code to Python that would provide location of all the anchors in a Loco Positioning setup by simply moving the crazyflie around, designing a filter that would provide more stability during flight operations during 'Fun Fridays' (definitely a great idea), etc. Also, with Arnaud's help, I was able to learn how to juggle while I taught him how good peanut butter goes with bananas.
In my opinion, the reason for Bitcraze's success and the reason it is such an amazing place to work is because of the way the company is setup. They follow a company structure called 'self organizing'. Having never heard of it before or experienced it before, I was a bit thrown off when I first started working in this environment. Here at Bitcraze, there is no heirarchy, but, instead everyone is a leader of their own individual roles, a concept I believe allows them to solve even the most difficult of problems with ease. Once I acclimated to this, working for Bitcraze tenfolded in awesomeness. The only downside, though, you will never want to work anywhere else again.
During my experience here, I have gained a plethora of skills and have had many great experiences. Most importantly, however, I have built great relationships and learned that where you work and who you work with is just if not more important than what you work on.
PS: They love visitors here, so feel free to come and hangout with the guys!
–  Aman
Thanks!
We have enjoyed your internship a lot! You quickly adapted to our crazy way of working and became a natural member of the team, adding not only your technical skills but also your personality and new angles on what we do.
We hope we will see more of you in the future!
–  The rest of the Bitcraze team