For a while now we have been selling the BigQuad deck which makes it possible to transform the CF2 to control a bigger sized drone. It does so by becoming the quadrotor control board, controlling external brushless motor controllers, which allows to scale up the size. This can be very convenient when trying out/developing new things as it first can be tested on the small CF2 and later scaled up by attaching it to a bigger quad. However for a more permanent setup it is a bit bulky, so we have been playing around a bit and designed something in the middle. The result is a stand alone control board targeting quads around 0.1 – 0.5kg.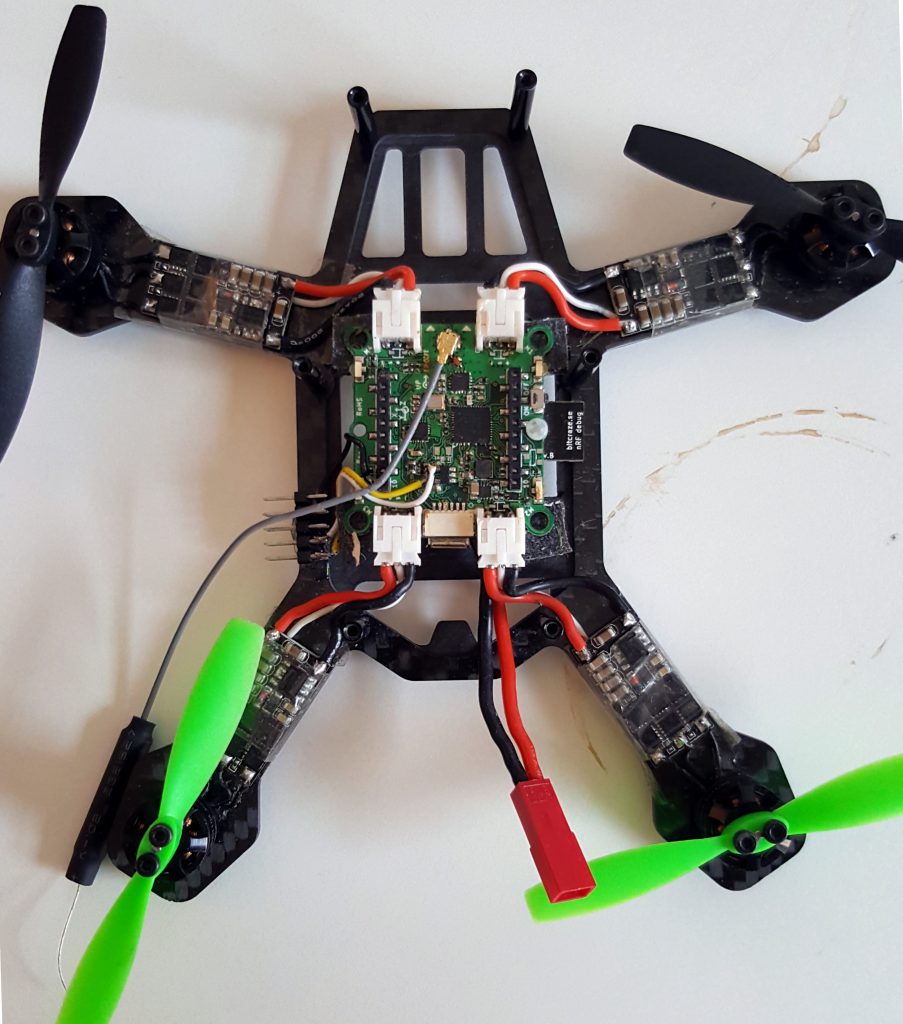 We call it the CF-RZR as it is inspired by the smaller sized racers with some fundamental differences. It is designed with a higher level of autonomous functionality in mind and being easy to repair while still being fully compatible with the CF2 firmware and decks. Listing the biggest features of the current prototype:
Fully compatible with the CF2 firmware, expansion decks as well as radio.
Connectors to attach motor controllers (still possible to solder though) so it is easy to build and repair.
Power distributions built into controller board. (Max ~8A per motor controller though)
Motor controllers can be switched of by the system so the system can go into deep sleep and consume around 50uA.
Voltage input 1S-4S (3V to 17V)
Standard mounting (M3 mounting holes placed 30.5mm square)
External antenna for increased range
To summarize, the strength of the CF2 but in a little bit bigger package :-). Last week we got a chance to test fly it for the first time. We used a off the shelf racer frame, ESC and motors. At first it did not fly that well at all but after some PID tuning it became pretty stable and we had a lot of fun :-).
We would love your feedback, good/bad idea, what do you like/dislike etc!