A couple of weeks ago Qualisys visited us at the Bitcraze office, they came with the Miqus motion capture system that they installed temporary in the office. This gave us the opportunity to play with their motion capture system and the Crazyflie 2.0 :-).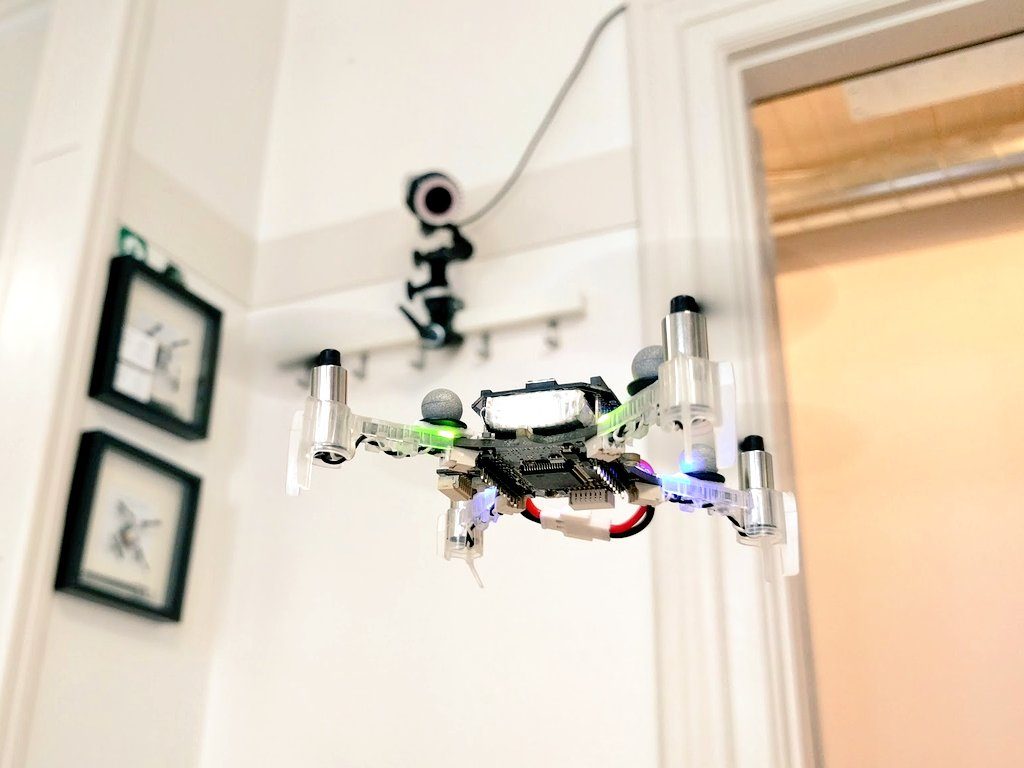 It was our first hands-on experience with a motion capture system. We were eager to try the algorithms that have been developed for the loco positioning system with the more precise position information offered by the motion capture. The result was above our expectations. You get a bit amazed when it is just sitting there in the air. The normally difficult in-air photo shoot became a breeze since you suddenly have plenty of time to focus and shoot.
After running a couple of simple stabilized flight demos, we endeavored to run the ICRA demo with motion capture instead of our loco positioning system. As the loco positioning deck isn't needed it was removed and instead the measured position was sent using Crazyradio. Doing so made the demo work pretty much out of the box. The ICRA demo had 2 buttons, one for playing a pre-recorded trajectory and one for recording a path and playing it back as soon as the Crazyflie is dropped. Both modes worked seamlessly without requiring any code change. We tried the path recording and playback functionality and were pretty impressed by the precision:
We look forward of meeting and working more with Qualisys. One goal is to provide better information, documentation and tools to get started with Crazyflie in a motion capture system.