As mentioned in an earlier post, this year we are going to exhibit at iROS 2018 in Madrid. Every time we go to fairs and exhibition, it is the occasion for us to work more on integration to put together the latest development into a demo we can show at the event. One of the latest development we will show at iROS is the lighthouse deck.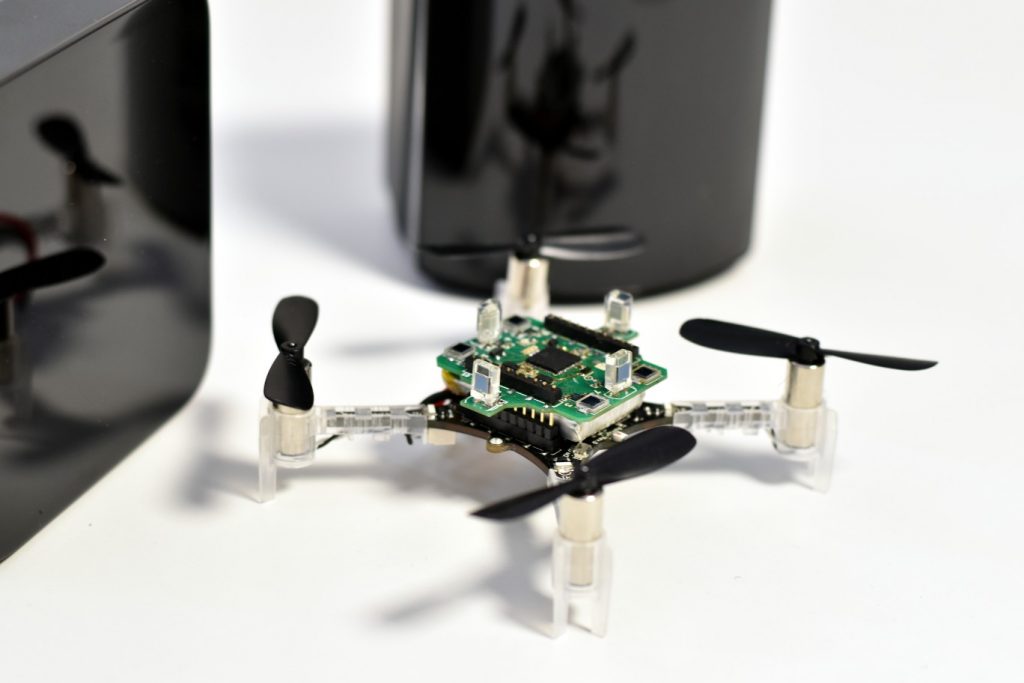 Work on the lighthouse deck have continued during the summer and we are now at a stage where things are starting to work quite well with Lighthouse V1 base stations. We are quite impressed by the performance: we have measured a positioning noise bellow 1mm. We are flying the Crazyflie using Crazyswarm which allows us to fly smooth trajectory using the high-level controller:
The goal for iROS is to stabilize and push the code in the main Crazyflie firmware repos. We will have a couple of Crazyflie setup with the Lighthouse deck and that we will be able to demonstrate. In the future we are also thinking of making a general purpose tag that could be used with other robots. One of the great advantage of the lighthouse tracking technology is that the position and orientation is available in the receiver, in the robot. This means that, like the LPS, the robots are autonomous and do not require an active data connection with a computer in order to locate themselves.
There is still a lot of challenges and work to be done on the deck. For once, this is currently using HTC Vive lighthouse base station V1, Valve has release the base station V2 that allows to cover much more space for each base station and to use more than 2 base stations in the same system, we plan to implement support for it. We will also need to work on multi-sensor localization and setup procedure. Currently the Crazyflie calculates its orientation using only one lighthouse receiver and requires to be in direct light of sight of both lighthouse, it is possible using more receiver to get a position and orientation with only one base station in sight which will increase the system reliablility. As for the system setup we are still using SteamVR to obtain the lighthouse positions using at least one Vive controller, the goal is eventually to be able to setup a system with the Crazyflie alone, without needing to install SteamVR. All that will most likely be discussed in more details in future post.
If you are attending iROS 2018 feel free to come and meet us at booth #91.