Last week half of Bitcraze, Kristoffer, Tobias and Arnaud were at IROS 2018 where we had an exhibitor booth. We have had a great week and met so many interesting and inspiring people, both users of the Crazyflie as well as persons curious in what we do. Thanks to everyone that passed by the booth, it is awesome to hear how Crazyflie is used and how we can improve it even more.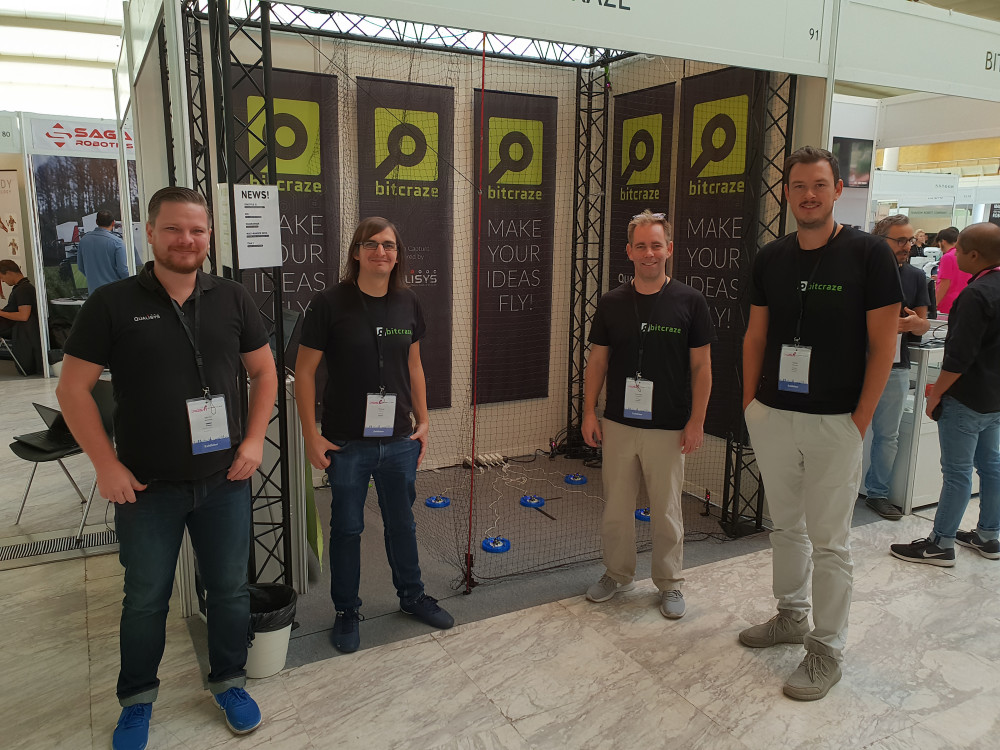 This year we invited Qualisys to share the booth with us, they kindly provided a motion capture system and we had the pleasure to be joined by Martin to help us and present Qualisys.
Demo-wise we had prepared a bunch of demos which you can read about in our previous post about IROS. It won't surprise anyone to hear that not everything has been working as planned. The Lighthouse demo did not work when we set it up in the booth (it did in the office!) but some live hacking solved the problem on Tuesday. We also had unexpected issues with the Crazyswarm demo: our landing pad design and flight trajectory was working very well in the office, but in the booth we experienced much more instabilities that prevented us to successfully fly and land all 6 crazyflies in Crazyswarm. We still need to investigate what happened. The autonomous demos, both using the UWB Loco Positioning System and Lighthouse (when fixed), have been surprisingly robust: they do not require a connection to a computer and they worked almost all the time, when they failed they failed without drama and could be reset very quickly.
Overall we have been able to accumulate flight time and experience much quicker in this last week than in the last months, now we have a lot of things to test and improve and also a lot of things we can be much more confident about. We have been fixing and improving the demo during the event and we will write more blog posts in the coming weeks about things we have developed and improved for and during IROS.
To conclude, thanks again to everyone that dropped by the booth, this kind of event always make us come back with a boost of motivation and fresh new ideas and it is all thanks to you!