We attended the Innovation Week at Lund University on Thursday last week. Primarily we wanted to talk to students and possibly find future colleagues (yes, we are hiring) but it was also a good opportunity to get some demo time with the Lighthouse positioning system.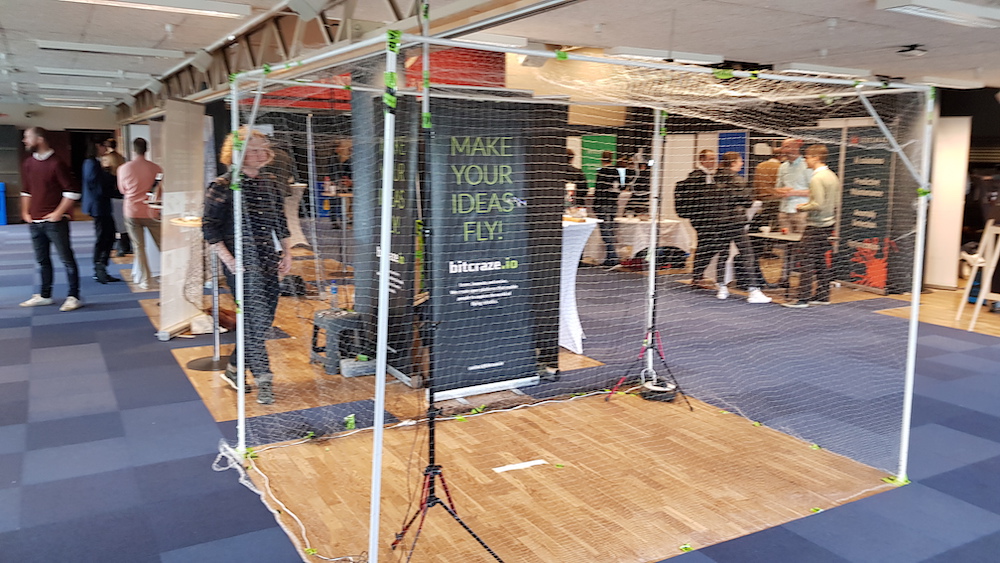 As mentioned in an earlier blog post, we are going to ICRA in May and we have started to think about what to demo. The main feature will of course be the Lighthouse deck. The setup at Innovation week also served the purpose of a first iteration for the ICRA setup.
We reused an old cage that we created for another fair a couple of years ago, built from a garden tent. It turned out to be fairly wobbly and a bit heavy (steel tubing) considering we will bring it in our luggage to Canada. We probably have to rethink the construction a bit and see if we can change to aluminium.
We put the Lighthouse base stations on tripods, which worked like a charm in our flight lab. We found that we had a lot of problems calibrating the system, not to mention flying the Crazyflie, at the Innovation week fair though. It turned out that the floor was not as stable as one might expect and that the tripods were swaying when people walked by. We solved the problem by adding a tube to the top of tripod that was pushed against the ceiling and thus minimizing the movement. Experience from the real world is always useful!
The general idea for the demo at ICRA is to automate as much as possible to give us more time with visitors. With the high precision of the Lighthouse system, it should be easy to land the Crazyflies on Qi chargers to avoid changing batteries. We hope to set up 6-8 Crazyflies where one is always flying while the others are charging, and have the possibility to temporarily fly more Crazyflies for small swarms. It is still just ideas and we will not see the end result until we are at ICRA, but it will be fun to build!