Back in 2014 a friend of ours dropped by our office to chat a bit about how things were going for Bitcraze. During the conversation we got a few questions that we should have been able to answer, but we couldn't. Things like "How many Crazyflies have you sold?" and "To which countries do you mostly sell?". We realized that we need some way of keeping track of things like this. Since I was mostly handling economics and admin, and also like developing things, this became the start of our internal "do a bit of everything" system.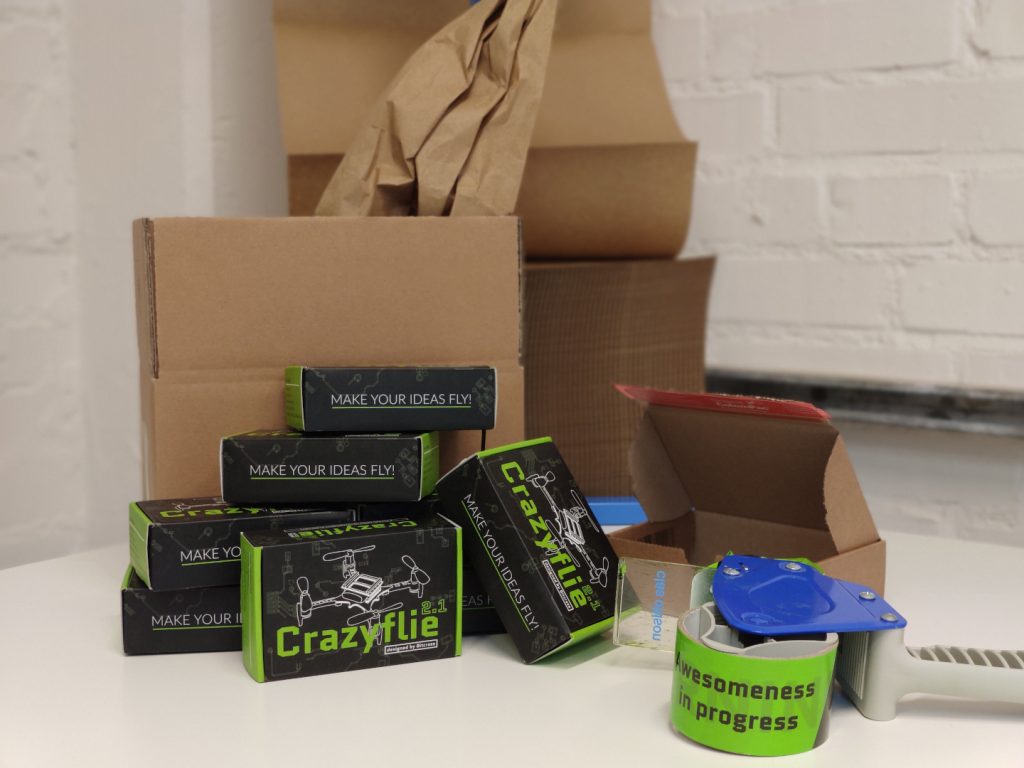 At this point in time we were only selling our products though Seeedstudio, so the system was mostly used to keep track of the stock levels there. But as things at Bitcraze started to change, so did the system. Later that year our Crazyflie 2.0 was heading into production and we wanted a better way to keep track of production, so we modified the production scripts to upload the production test results to our servers. Now we had production stats and could trace returns from the field trough production using serial numbers.
Fast forward to 2016 and we've decided to start selling our products in our own E-store. We found a 3PL partner in Hong Kong to do our packaging and shipping. It was a big step for us and something we really liked since we got direct contact with our customers. But the amount of work quickly started to increase. Our main issue was that some customers were not keeping track of their shipments and the shipments would end up sitting in customs awaiting questions from the customers and would eventually be returned to us, and this was a big hassle. So the tracking of orders were added to our internal system, now it would keep track of the shipment progress and warn us if there were any issues.
Apart from the E-store we also had orders though our invoicing software. In order for us to get a unified picture of what was happening our internal system started to merge information from the different systems: our E-store, invoicing software and Seeedstudio.
At this point the system had grown so much that the architecture was a bit out of hand and we re-wrote the system from scratch to be able to handle more changing requirements. In hindsight was a good decision, since the next big change change was around the corner. In 2018 everything was running smoothly but our 3PL partner was suddenly moving the warehouse from Hong Kong to Shenzhen (blog post), something that was supposed to take a week and run smoothly. Unfortunately the move was everything else than smooth and after battling for months trying to get the operation back up again, we finally pulled the breaks and started to re-route newly produced units to our office in Sweden instead.
Now we had an office full of products and an E-store were things were being sold. But we didn't have any solution for actually taking the orders and shipping them. At first we were booking everything manually, but as order counts increased this quickly became a problem. We looked at a few solutions but didn't find anything that matched well for integrating all our systems. So our internal system once again got expanded to handle the warehouse part, print packing lists, book shipments and print labels (blog post).
As time passes (and more challenges pop up) we've been adding more and more functionality and have been able to quickly adapt to what's been happening. While developing the system over the years, my overall goal has been to automate as much as possible of the admin/logistics in order to keep the workload the same even though sales increase. So far this has been successful!
Today we use this system for a wide range of administration, logistics and production tasks. Below is a list of some of the things it handles:
E-store and sales

Live shipping quotes during checkout
Requesting order quotes from the basket
It handles all of the accounting from the E-store
GMail plugin for easily accessing information

Logistics

Warehouse functionality (stock, incoming products etc)
Printing picking/packaging lists

Warnings for shipments that are stuck or lost
Booking and printing of shipping labels

Manufacturing

Keep track of all tested units with all data from the tests
Production planning and warning if things will run out of stock

Analytics

Various harmonized business analytics from our different sales systems
Harmonized data that is used for various analysis

Reminds us about various things like unpaid invoices
So have we made back the time we spent building the system? Probably not, but we will. There's a lot of good solutions for similar systems out there, but the decision to make our own system came from not finding a solution where all our pieces fit. In order to minimize the work I've tried to use various external services to speed up development. In the end the list of systems that are used together is quite long:
Our production test software
Shopify (E-store SaaS)
Fortnox (Bookkeeping, invoicing and quoting SaaS)
Easypost (shipping API)
Riksbanken (for exchange rates)
Our printing station software for label/document printers
Slack for notifying us about various issues
Sendgrid for sending emails
Mondido (our payment gateway)
Google docs
Seeedstudio