We are excited to announce that we will be having developer meetings on first Wednesdays of every month! Additionally, we are thrilled to be present in person at ICRA 2023 in London. During the same conference, there will be half day workshop called 'The Role of Robotics Simulators for Unmanned Aerial Vehicles' so make sure to sign-up! Please check out our newly updated event-page !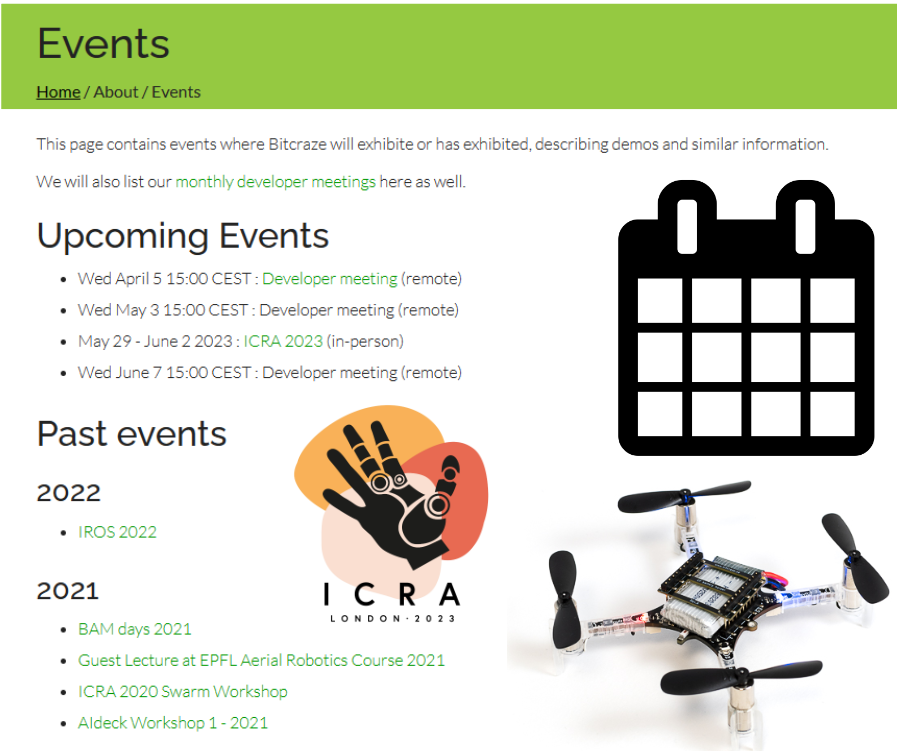 Monthly Developer meetings
We have had some online developer meetings in the past covering various topics. While these meetings may not have been the most popular, we believe it is crucial to maintain communication with the community and have interesting discussions, and exchange of ideas. However, we used to plan them ad-hoc and we had no regularity in them, which sometimes caused some of us **cough** especially me **cough**, to create confusion about the timing and location. To remove these factors of templexia (dyslexia for time), we will just have it simply on the first Wednesday of every month.
So our first one with be on Wednesday 5th of April at 15:00 CEST and the information about the particular developer meeting will be as usual on discussions. From 15:00 – 15:30 it will be a general discussion, probably with a short presentation, about a topic to be determined. From 15:30-16:00 will address regular support question from anybody that need help with their work on the Crazyflie.
ICRA 2023 London
ICRA will be held in London this year, from May 29 – June 2nd, atthe ExCel venue. We will be located in the H11 booth in the exhibitor hall, but as the date approaches, we will share more about what awesome prototypes we will showcase and what we will demonstrate on-site. Rest assured, plenty of Crazyflies will be flown in the cage! To get an idea of what we demo-ed last year it IROS Kyoto, please check out the IROS 2022 event page. Matej from Flapper Drones will join us at our booth to showcase the Flapper drone.
We are thinking of organizing a meetup for participants on the Wednesday after the Conference Dinner, so we will share the details of that in the near future as well. Also keep an eye on our ICRA 2023 event page for updated information.
ICRA Aerial Robotic Simulation Workshop
I (Kimberly) will also be present at the 'The Role of Robotics Simulators for Unmanned Aerial Vehicles' workshop on Friday June 2nd. Together with Giuseppe Silano, Chiara Gabellieri and Wolfgang Hönig, we will be organizing a half day workshop focused on UAV-specific simulation in robotics. We have invited some great speakers namely: Tomáš Báča, Davide Scaramuzza, Angela Schoellig and Jaeyoung Lim. The topics will cover multi-YAV simulation to realistic vision-based rending and software-in-the-loop handling for PX4.
Additionally, participants can submit an extended abstract to be invited for an poster presentation during the same workshop. The submission deadline has been extended to April 3rd, so for more information about submission, schedule and speaker info, go to the workshop's website.