As you might have noticed, most of our bundles are currently unavailable because Crazyradio PA is out of stock. We are currently finishing the production for the Crazyradio PA replacement, Crazyradio 2.0 which means that, if everything continues to go well, it should be in stock and ready to ship in a couple of weeks.
Crazyradio 2.0 is designed to be a drop-in replacement for Crazyradio PA as well as an improvement that will allow new development and improvement for the communication with Crazyflie(s). Among the hardware change we have:
Much more powerful microcontroller: the nRF52840, a Cortex-M4 at 64MHz, 1MB of Flash, 256KB of ram with a much more flexible 2.4GHz radio hardware compared to Crazyradio PA.
Safe and easy to use Bootloader with button to launch it for easy upgrade
RGB LED for richer status indication
The same SWD debug port as on the Crazyflie 2.0 for easy development and debugging
As on Crazyradio PA, a radio power amplifier with a 20dBm (100mW) output power
Only support 1Mbit/s and 2MBit/s bitrate (Crazyradio PA also supported 250Kbit/s)
The improved microcontroller and safe and easy to use bootloader are the most important as they will allow us to experiment and implement new radio protocols over time. Things like peer-to-peer protocols, channel hopping and link cryptographic protection are now possible to work on.
All these new functionalities will come later though. So far we have been really hard at work to get the hardware ready and out as a Crazyradio PA replacement. To achieve that goal we have developed two version of the Crazyradio 2.0 firmware:
The Crazyradio2 firmware that implements the same radio protocol as the Crazyflie 2.0 but has a new improved USB protocol that improves performance and allows for the development of new radio protocols. It will also not require any driver on Windows.
The Crazyradio2-crpa-emulation firmware that emulates a Crazyradio-PA USB and Radio protocol. This version of the firmware allows to use the Crazyradio 2.0 with any client that supports Crazyradio PA.
Since support for the new USB protocol is not implemented in any clients yet, we are shipping the Crazyradio 2.0 in bootloader mode. When plugged in a computer for the first time, Crazyradio 2.0 will appear as a USB disk drive: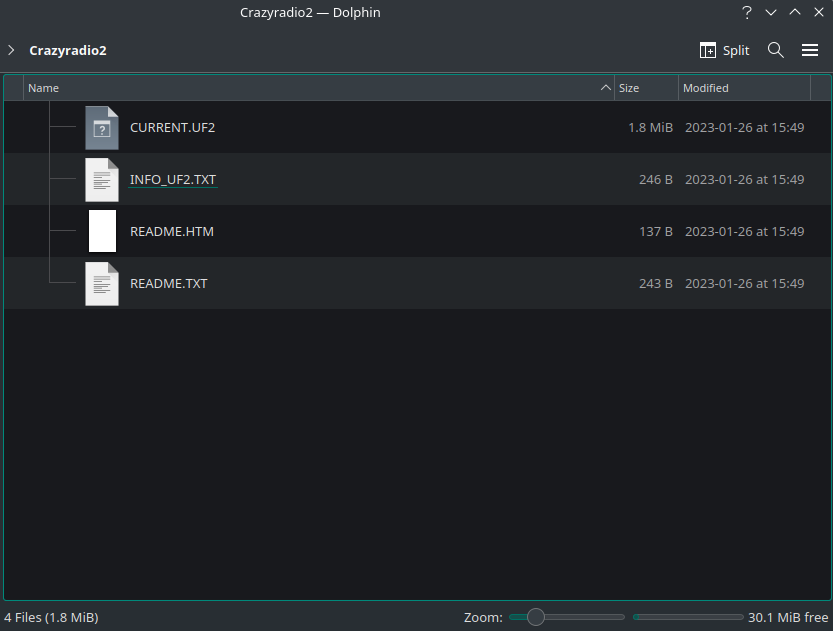 Clicking on README.HTM will open the web-browser to the Bitcraze website page that lists both available firmware with explanations of which one to choose. At first the CRPA-emulation firmware will likely be the most useful but over time the new Crazyradio2 protocols will be the best choice. Once the firmware downloaded it can just be drag-and-dropped in the Crazyradio 2 drive and the radio will restart in firmware mode and be ready to use!
Pressing the button on the Crazyradio when inserting it in the PC will launch the bootloader again and we are planing on making future updates possible via the Crazyflie clients as well. This is an exciting time as we will now be much more free to experiment, iterate and eventually greatly improve the communication capabilities of Crazyradio as well as of the Crazyflie quadcopters!
Now for the more practical information: if everything goes well Crazyradio 2.0 will be available in the bitcraze store the last week of April 2023, we are going to sell it for 40 USD. This means that most bundles should also be back in stock with Crazyradio 2.0 replacing Crazyradio PA in the bundles.