It's been cooking on the slow burner for a long time now, the Crazyflie 2.1-Brushless, or CF21-BL in short. Ever since we got inspired by the tinypepper 1-cell brushless motor controller which showed us a small brushless ESC could be made, we got the idea of integrating brushless ESCs into the Crazyflie. Integrating the ESCs turned out to be easier then we though, but we hade more ideas, we wanted it to be efficient. Due to the FPV market and the toothpick sized category plenty of appropriate size components exist, however none is really optimized for efficiency. So we had to go back to the drawing board, contact suppliers and work with them to try and improve efficiency. This turned out to be a very time consuming task and we are now at a stage where we think we have gotten as far as we can with the resources we have.
Why go brushless?
A brushless setup is better in most aspects but it has some downsides, such as cost and complexity. The brushless motors requires a more complex design and is therefore more expensive to manufacture. It also requires a more sophisticated motor driver that also needs a larger PCB board space. On the upside we have better power to weight ratio, better longevity and efficiency to name a few. For the tiny type of brushless motors that are interesting here the efficiency gain is not so obvious though. This is mainly because it is hard to make an efficient motor driver due to the low inductance in the motors and this can definitely be further improved, perhaps with software upgrade of the ESC firmware in the future.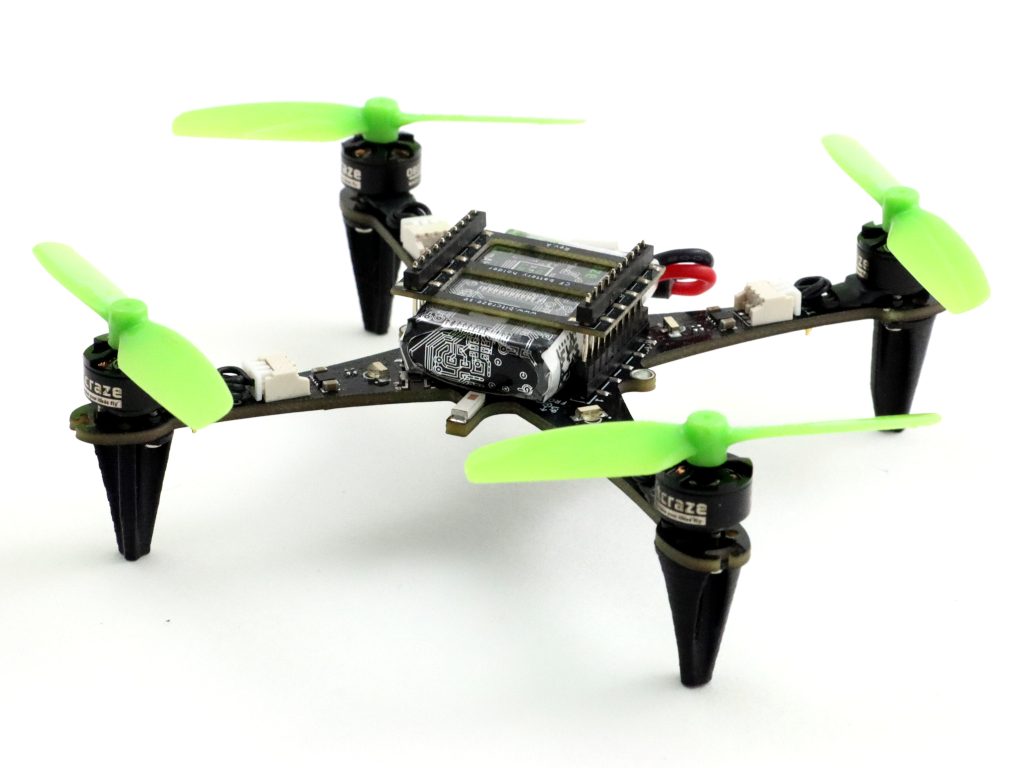 Let's dive into the current specification!
After many prototypes this is where we are at now:
Crazyflie 2.1 base design using the PCB as the frame.
4 x integrated 1-cell 5A ESCs running BLHeli_S/Bluejay
Weight: 32 grams ( including 350mA battery)
4 x 08028-10000KV high-quality motors generating up to 30 grams thrust each
Custom-designed and optimized 55mm propellers with 35mm pitch
Over 10 min hover time in 32-gram configuration (~5g/W efficency)
The added thrust and the longevity of the brushless motors are probably the key features of the CF21-BL. This will improve payload capability or agility for applications where this is needed as well as the robustness. It will come at the expense of a higher price tag though.
The Crazyflie 2.1-Brushless has come a long way but there are still many things that have to be done before it will be available in the store and it is too early to talk about any timeline, but the goal is to release it during 2024!