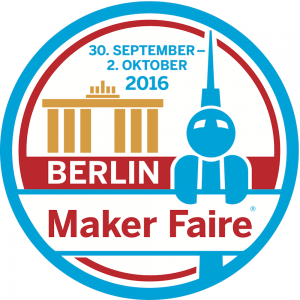 Maker Faire Berlin 2016 is coming up and we will be there to show of the latest and greatest from our lab. The plan is to show:
the Loco Positioning system and autonomous flight
a (small) swarm – we hope to get more than one Crazyflie in the air at the same time, even though the space is very limited
there are ideas of some sort of synchronized sound- and light show with an autonomous Crazyflie, all controlled from a MIDI sequencer
a virtual cage to stop a Crazyflie from escaping when flown manually
a preview of the Arduino based controller to fly the Crazyflie
a Loco Positioning tag that can be used to track other devices/robots than the Crazyflie
ROS integration with the Crazyflie and Loco Positioning system
We're not sure we will succeed with them all, but let's hope for the best. Is there anything special you are interested in? Please let us know!
Maker Fair Berlin is Sept 30 to Oct 2 at Station Berlin. You will find us in hall 3, stand 149.
We love your feedback and are looking forward to meeting you all and talk about your projects, what we do and future ideas.
See you in Berlin!