Last Wednesday we had our first live tutorial event, explaining our Spiral Swarm Demo that we usually show at conferences. About 60 people signed up and it seems that we have about 40-50 people that were able to join from all parts of the world. There were even several Crazyflie users from Asia that stayed up late especially for this, so we definitely appreciated the dedication!
For those who missed it, you can find the recordings and slides on this event page.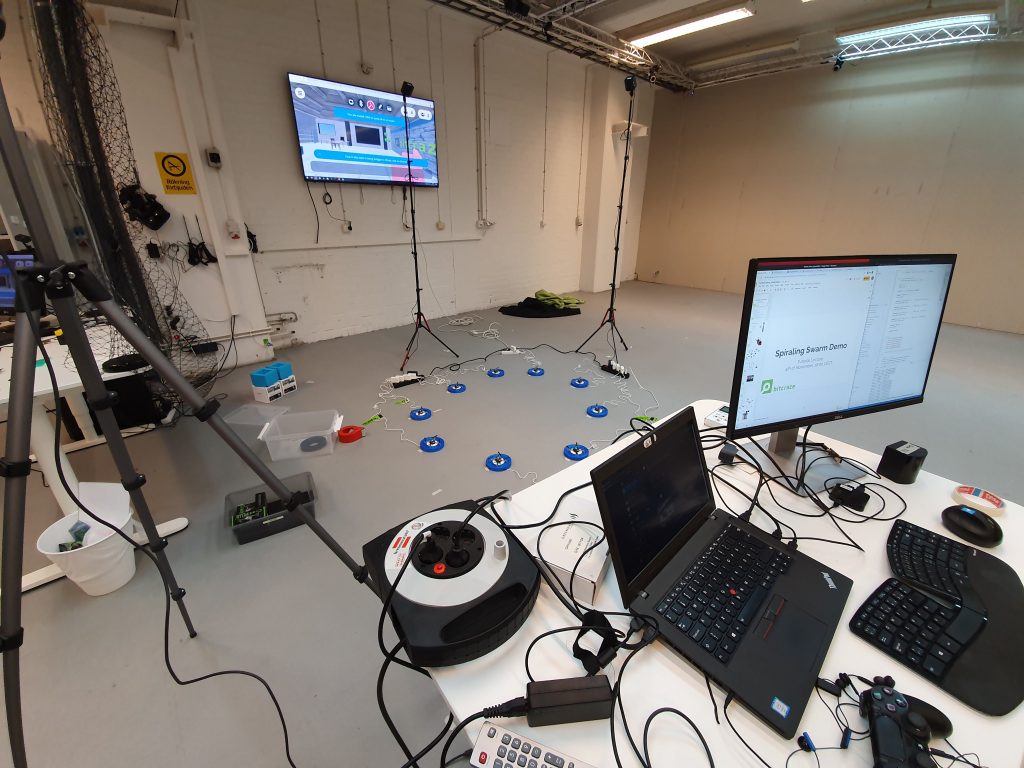 The Tutorial
The first hour we were mostly talking about the Lighthouse positioning system and in particular focusing on the base station V2. In real time, we had hands-on sessions where we actually showed how we setup the system, how to retrieve the calibration data and how to achieve geometry. The hour ended with showing a Crazyflie flying in the lighthouse system itself.
After the break , we focused on how to achieve more autonomy in the swarm, where we talked about the limitation of communication, the high level commander and the app layer. This was also shown with hands-on with multiple flying Crazyflies and the full automatic demo at the end. We were able to keep showing the demo in the end for a 30 minutes more while we were resting up with a drink :)
We were using Discord and Mozilla Hubs simultaneously to stream the tutorial. Discord worked out nicely since we could have one channel for the stream and one channel for the chat, which one of us was able to look at continuously. Mozilla hubs was a nice add-on however it definitely had some hiccups and streaming quality issues, which is not ideal for following a tutorial. Also being in Virtual Reality for 2 hours is very exhausting we heard from headset-using participants.
What next?
We really liked doing the tutorial and speaking one-on-one with our users very much so we are likely to organize one again. Not sure at what frequency though but of course we will announce it first. We have already some requests for topics so we will look into those first. Next time it probably will be a shorter tutorial on Discord only. Mozilla Hubs might still be used but as a virtual gallery where we put 3D visualizations of what we are working on (like how the base station sweeps work for instance), so that people can get a better understanding. If you have any request for topics please leave a comment below.
We will also try out to use our new Discord Server as a digital 'watering hole' for our users. Here everybody will have the opportunity to chat with each-other, to share awesome projects and to maybe help each-other out with certain questions. However, we will not be on Discord ourselves all the time and still advise to use forum.bitcraze.io as the main place to ask questions and to seek for support.