Did you know that all the items you receive when you place an order are actually from the Bitcraze office? In the beginning, we had the shipping handled by a third party, but it caused some problems and we decided to have this side of the business closer to us- namely, right here at the office in Malmö.
We have a "warehouse" with our products in our flight lab, and thrice a week someone takes the order, fulfills them, packs them and hands them over to FedEx. So how does this work exactly?
Well, a lot of this is possible thanks to our internal system, a Raspberry Pi, and three printers. When we fulfill your order, we have a lot of things to take into account. The weight of the shipment, the number of batteries it contains, what kind of shipment you ordered, the destination country, the kind of labels that are needed…. Thankfully, everything is handled by our internal system, and with one click we have everything we need. If you booked a FedEx shipment, our API books the FedEx shipment immediately and prints it.
We actually have three different printers. One prints the packaging list that we put in your package, along with one that helps us know what to pack. It's a regular, office printer. The second one prints the shipping label. A third one is used for packages that contain batteries: those are, of course, heavily regulated, and we need to label them correctly to ensure the safest way to transport them. Hence the need for a third printer, which prints somewhat smaller labels. Some of us actually followed a course to be able to handle a shipment containing more than 2 spare batteries per drone… It is then considered a "Dangerous Goods" shipment by FedEx and has to be treated, labeled, and sent following a precise protocol.
Here they are in action: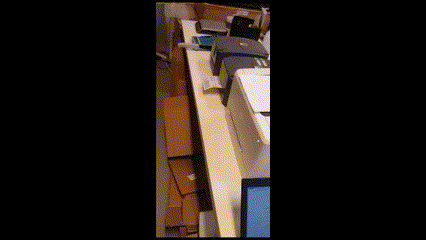 Once everything is printed, the "only" thing left is to actually pack the box! It's what takes up the most time. We select your items (without forgetting the stickers!), place them in the box that should be the right size, and try to pack everything so that it is safe to transport to the other side of the world. We then hand everything to FedEx which takes it from there. We try, as much as possible, to ship within 3 business days. That usually means packing and sending on Mondays, Wednesdays, and Fridays – though conferences or holidays can shake this up a bit.
The obvious advantage of having everything set up here is that we have a lot more control over this important side of the business. We have an eye on stock, on how the package looks like, and have an idea of where we actually send our products! The downside is that it takes a lot of time away from development. But these past couple of months, we've done a lot to improve our experience while packing. Those include an already filled-out Customs Notice for postal packages and a quicker way to handle packages that have more than 2 spare batteries. But the biggest change is that we have hired someone to help us part-time. Sofia started a week ago and she already has helped take care of the shipping part of Bitcraze. So welcome, Sofia, to the Bitcraze team!