I already talked about it here and there, but this day finally came: the whole company is in Japan !
Kimberly travelled first, to account for jetlag, meet with some people, and attend ROScon.
It was last week, and she got the opportunity to learn a lot, meet people from the ROS community, and give an exciting talk.
The rest of the company travelled last week with all the equipment needed divided into our suitcases.
We chose to rent a traditional machiya while there, where we can all stay together and enjoy the life in the center of Kyoto.
Our first day here was to account for jetlag, but we managed to sightsee the amazing sites of Kyoto – and enjoy the most praised Japanese food, much appreciated after a long walk among the Tori gates of the Fushimi Inari shrine.
But it was soon time to start working, and yesterday we worked really hard on setting up everything to have a nice demo at IROS.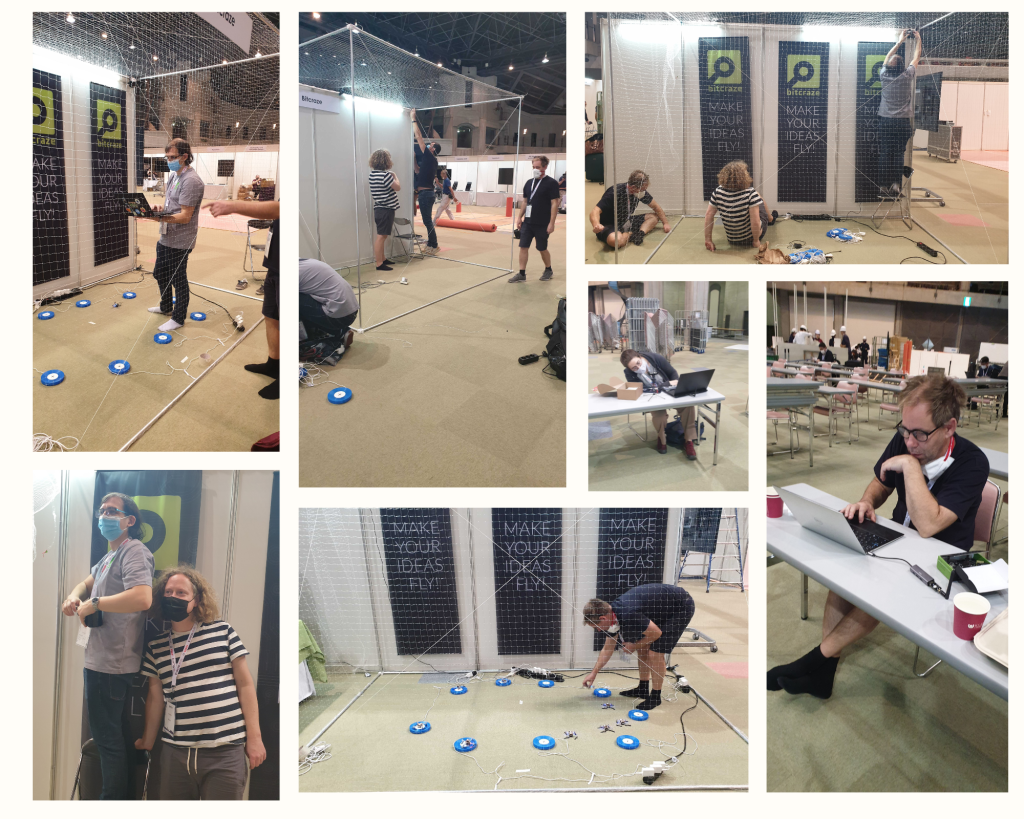 After some head scratching, emergency taping and hacking we managed to get the autonomous demo that Marios implemented last summer flying – just before the event hall We got time to explore the Kyoto International Conference Center, a beautiful venue with a Japanese garden and a futuristic look – as imagined in the 70′.
We invited those of you that are attending IROS to come and see us for a tech meet-up. It's today and it would be a real nice opportunity for us to finally chat in person with our users ! Since there are a lot of aerial systems talks, we realize it may be difficult to come during the sessions, so the tech meet-up can begin during the break, at 15.40
Next up this week is the safe nanocopter competition. Kimberly will actually deliver the prize for that, we can't wait to see what this competition will show – and how fun it is to remote-control the Crazyflies that are in the University of Toronto Institute for Aerospace Studies!
Of course, we will share some news on social media – and we will have a blogpost in a few weeks to debrief on the whole trip.
As you'll understand, maintaining the day-to-day of the company is a little trickier this week, but we still monitor email, github discussions, and are shipping orders. You should just expect a longer time to process those, as we're too busy – either at the booth or… at karaoke ! (no, there will be no videos of us singing).