If you have been following the ROS Discourse on a regular basis, you might have seen a bit more activity on the Aerial Vehicles category than usual. We very recently started an Aerial Robotics Working Group in collaboration with Dronecode Foundation! It will be a community-driven working group initially, but we will hold biweekly meetings on Wednesday at 2:00 PM UTC, and build up a community members and gather information on the ROS Aerial community's Github organization. This blogpost aims to explain how this working group came to light, what our current plans are and how you can participate.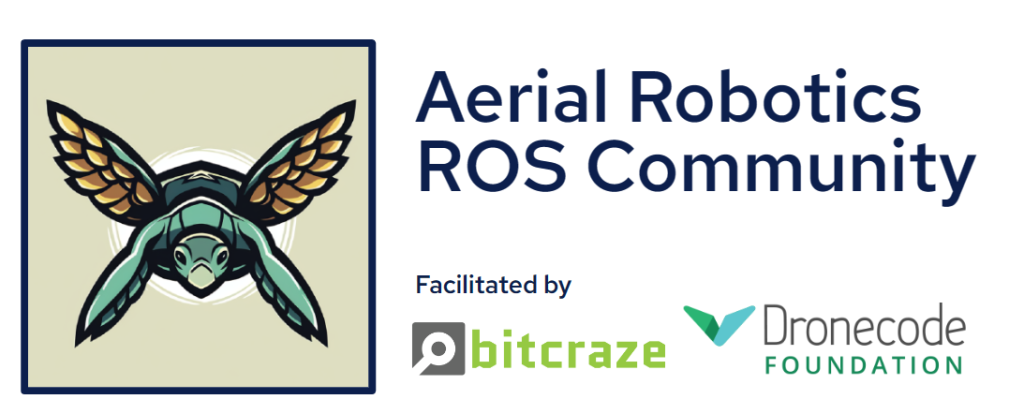 How did it all begin?
There are actually quite some aerial enthusiasts out there dwelling in the ROS crowd, which became evident when 20-30 people showed up at the impromptu ROScon 2022 aerial roboticists meetup. This was also our first experience with ROScon as Bitcraze, and I (Kimberly) absolutely loved it. The idea popped to be able to be more active in the amazing ROS community, which we started doing with helping out more with the Crazyswarm2 project (see this blogpost) and giving a presentation about it as well. However, we did notice that there wasn't as much online chatter about Aerial Vehicles on the ROS communication channels. Yes, the Embedded ROS working group led by eProsima (responsible for MicroROS) has done some really cool demos with Crazyflies! And the same goes for any other aerial project, that has probably contributed to some of the other staple projects like NAV2. But there aren't any working groups that are specific for aerial robotics.
Since PX4 led by Dronecode foundation had similar ambitions to be emerged into the ROS family, since we met in person at the very same ROScon last year, we started talking about possibly starting up a working group. This started with us reaching out to the ROS community for interest with this ROS discourse post and after 25 and more replies, the obvious thing was to set up an first explorative meeting. About 30 people showed up to this, so the message was clear: yes, there is a demand for guidance, structure, and information in the ROS community regarding aerial robotics. Thus, the aerial robotics working group was born!
Current state and plans
One of the observed issues is that we have noticed that is happening is that there there are numerous projects and information about aerial robotics, and perhaps too much. That is because aerial robotics consists of a huge variety of robotic systems in different forms like multicopters or even monocopters (like in the blogpost here) but also hybrid VTOL vehicles, mini blimps (for example this hack we done) and so many more. But as you probably know, aerial vehicles come with their own set of challenges that distinguish them from ground robots, like instability, aerodynamics, and limitations related to their lift capabilities. Therefore, it offers an interesting platform for control theory, autonomy, and swarming and as a result several ROS-related projects have emerged, such as Crazyswarm2, Aerostack2, Kumar Robotics Autonomy Stack and, Agilicious. Moreover, even though a standard ROS interface for aerial robotics has been created some years ago, it has not been enforced or updated since. And also, although courses and tutorials can be found here and there scattered around on multiple projects and autopilot websites to get started with aerial robotics in ROS, but many have found the learning curve to be quite steep and usually don't know where to start.
Due to the vast amount of systems, software, projects and information out there, we decided to gather all this information in one centralized location as an Aerial Robotics landscape instead of scattering it across various aerial robotics resources, of which we have created a simple repository with markdown files. The idea is to fill this in little by little by info that we get from the working group discussions or other input of users, or research done by ourselves. For that, we will facilitate biweekly meetings, where users will present about their project (like our last meeting about Aerostack 2) or where we engage in discussions on various aerial robotics topics (like Aerial Autonomy stacks in the startup meeting).
Future ambitions
Currently, we don't have a specific end goal or main project in mind, as we are right at the start of the first discussions and information gathering. That is also why it will be considered a 'community driven' working group after some emails back and forth with Open Robotics Foundation, until we reach a stage where the landscape is adequately developed to establish specific development goals. and set up various subprojects for communication, autonomy, platforms and/or education. Additionally, incorporating direct communication protocols within swarms could be of interest, as these are a common use case within aerial robotics. Once we have established more specific development goals, we can apply to be an official ROS working group, and collaborate with other workgroups on overlapping projects. From our perspective, it would be more beneficial for the ROS ecosystem not to create a standalone aerial stack, but enhance the integration of other stacks with aerial vehicles.
Join us!
Currently I (Kimberly) representing Bitcraze and Ramon Roche from Dronecode Foundation will be in the 'lead' of the Aerial working group, although we prefer to act as facilitators rather than imposing our own direction. We will try our best not to geek out too much on PX4 and/or Crazyflies alone, so therefore anybody's input will be crucial! So if you'd like to levitate ROS to new heights, come and join our meetings! Our next meeting is scheduled for Wednesday the 24th of May (2 pm UTC), and you can find the information on this ROS Discourse thread. We hope to see you there!