As mentioned in a previous blog post, we have a both at ICRA in London this week. If you are there too, come and visit us in booth H10 and tell us what you are working on!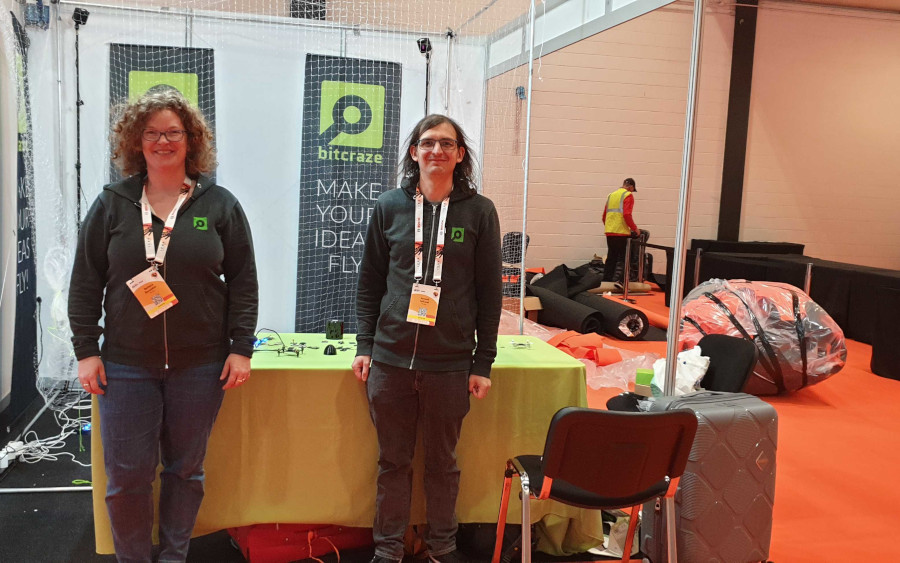 We are showing our live autonomous demo and our products in the booth, including the flapping drone Flapper Nimble, don't miss it!
The autonomous demo
The decentralized autonomous demo that we are showing is based on technologies in the Crazyflie ecosystem. The general outline is that Crazyflies are autonomously flying in randomized patterns without colliding. The main features are:
Positioning using the Lighthouse positioning system, all positioning estimation is done in the drone. The Lighthouse positioning system provides high accuracy and ease of use.
Communication is all peer-to-peer, no centralized functionality. Each Crazyflie is transmitting information about its state and position to the other peers, to enable them to act properly.
Collision avoidance using the on-board system without central planing. Based on the position of the other peers, each Crazyflie avoids collisions by modifying its current trajectory.
Wireless charging using the Qi-deck. When running out of battery, the Crazyflies go back to their charging pads for an automatic re-fill.
The App framework is used to implement the demo. The app framework provides an easy way of writing and maintaining user code that runs in the Crazyflie.
We are happy to answer any questions on how the technology works and implementation details. You can also read more about the demo in the original blog post by Marios.
Developer meeting
The next developer meeting is next week, Wed June 7 15:00 CEST and the topic will be the demo and how it is implemented. If you want to know about any specific technologies we used, how it is implemented or if you are just curious about the demo in general, please join the developer meeting. We will start with a presentation of the different parts of the demo, and after that a Q&A. As always we will end up with a section where you can ask any question you like related to our ecosystem. Checkout this announcement on our discussion platform for information on how to join.